Description
HYDRAULIC DOUBLE SCISSOR LIFT PLATFORM
Standard capacity up to 20,000 lbs. standard travel up to 16 feet.
DS Features & Benefits
Self-Aligning Spherical Bearings and Lifetime-Lubricated Bushings at All Pivot Points
Cam Follower Rollers with High Tensile Needle Bearing Construction
High Performance Cylinders with Chrome Rod, Guide Bearing, Scraper and Safety Velocity Fuse
Guardrails with Kick Plate on Non-Access Sides and Chains with Snap Release on Access Sides
Two Control Stations Provided
Over-Travel Limit Switch
Remote Mounted Power Unit Supplied with Oil and High-Pressure Hose
Motor Controller with Dust Tight Enclosure and Reduced Voltage to Watertight Push Button Stations
Checker Plate Deck Surface
DS Options & Accessories
Deck Perimeter Electric Stops
Custom Guarding, Gates & Interlocks
Full Travel Stabilizer Guides
Leveling & Anti-Creep Switches
Roll Off Stops
Numerous Custom Performance and Safety Options Available
Triple Scissor Lift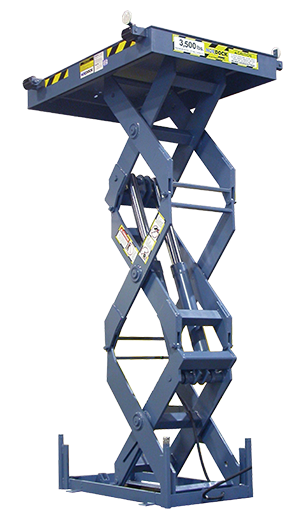 The Triple Scissor Lift is used for floor to floor or floor to conveyor applications. Custom-built 3,500 lb. capacity Triple Scissor Lift has a total raised height of 108″.
MULTI-STAGE™ Scissor Lift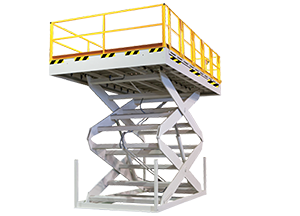 The MULTI-STAGE™ scissor lift provides a large platform with optional multiple telescoping ramps. 5400 lb. lift capacity with 172" travel range with 10 separate extendable sections each with 500 lb. capacity.